Unique Venues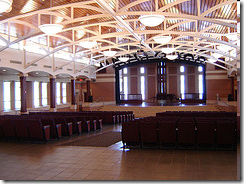 If you're looking for smaller or unique meeting space, Springdale has plenty to offer. Our professional staff can assist you in identifying your needs and budget and leave you with great options to select from. For additional assistance, call us at 479-872-2222 or email us at info@explorespringdale.com.
The Jones Center
922 E. Emma Avenue
With more than 12,000 square feet of meeting space plus a 343-seat chapel, weddings, receptions, showers, conferences, educational opportunities, family reunions, club events and more can be accommodated here. To schedule, call 479-756-8090 ext. 2100.
Metroplex of Springdale
881 Metroplex Dr.
This venue is boasts 20,000 square feet of space making it perfect for your next family gathering, business event or wedding reception. The Metroplex offers state of the art sound and audio visual equipment and an electric atmosphere that will make your event stand out from the rest. To book your next event at the Metroplex call 479-636-5333.
Parson Stadium Community Center
1423 E. Emma Avenue
With plenty of parking, this 7,200 square foot venue can meet the needs of small expos, conferences, wedding receptions, company parties, reunions, club events and more. To schedule, call 479-756-0464
Arvest Ballpark
3000 S. 56th Street
A variety of meeting options await you at the home of the Northwest Arkansas Naturals baseball team. The Sam's Club Community Room delivers flexible space for everything from a staff retreat to an organizational kick-off event. Oversize luxury suites overlooking the baseball field can also be configured to meet your small group need. The stadium concourse, indoor batting cages, and group party areas are perfectly suited for creative meetings. To schedule, call 479-927-4900.
Sassafras Springs Vineyard
This unique meeting venue features a winery and tasting room, outdoor chapel ruins, indoor meeting space, oversized decks, stables and more, not far from Beaver Lake. The 3,500-square foot renovated stables is perfect for a variety of events. To schedule, call 479-530-6267.
Springdale Civic Center
2323 Old Missouri Road
This 20,000 square foot clear span venue includes a stage and can be used for both meetings and expos as well as performances. To schedule, call 479-756-8686
Magnolia Gardens Inn
The 2,800 square foot Magnolia Hall features three walls of glass nestled beside one hundred year old magnolia and yellowwood trees. It can accommodate a banquet with seating for 150 or a reception with a band for 120. Cathedral style seating will allow 180. To schedule call 479-756-5744.