Military Parks
Northwest Arkansas is a treasure for any military history enthusiast with two battlefields within easy driving distance from Springdale.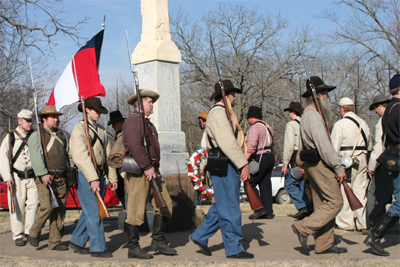 Pea Ridge National Military Park preserves the site of an 1862 Civil War battle that gave the Union total control of Missouri and led directly to the federal occupation of Arkansas. During the Battle of Pea Ridge, some 26,000 soldiers clashed during the two-day battle, with Confederates under Gen. Benjamin McCulloch and Union forces under Gen. Samuel R. Curtis. The Confederate army also included about 800 Cherokees. The Pea Ridge Military Park encompasses 4,300 acres and features a reconstructed Elkhorn Tavern, visitor's center, museum, self-guided tours and a 2.5-mile segment of the "Trail of Tears." Pea Ridge is northeast of Springdale, located along U.S. 62.
Prairie Grove Battlefield State Park is recognized nationally as one of America's most intact Civil War battlefields. The park protects the battle site and interprets the Battle of Prairie Grove, where on December 7, 1862, the Confederate Army of the Trans-Mississippi clashed with the Union Army of the Frontier resulting in about 2,700 casualties in a day of fierce fighting. Walk along the ridge and in the valley where the heaviest fighting took place. Take the one-mile Battlefield Trail or travel the park's five-mile Driving Tour. Visit the Battlefield Museum. Park exhibits, tours and programs describe the battle and its local effect. The park hosts Arkansas's largest battle reenactment biennially on even-numbered years on the first weekend of December. The park is southwest of Springdale on U.S. 62 in Prairie Grove.