Trails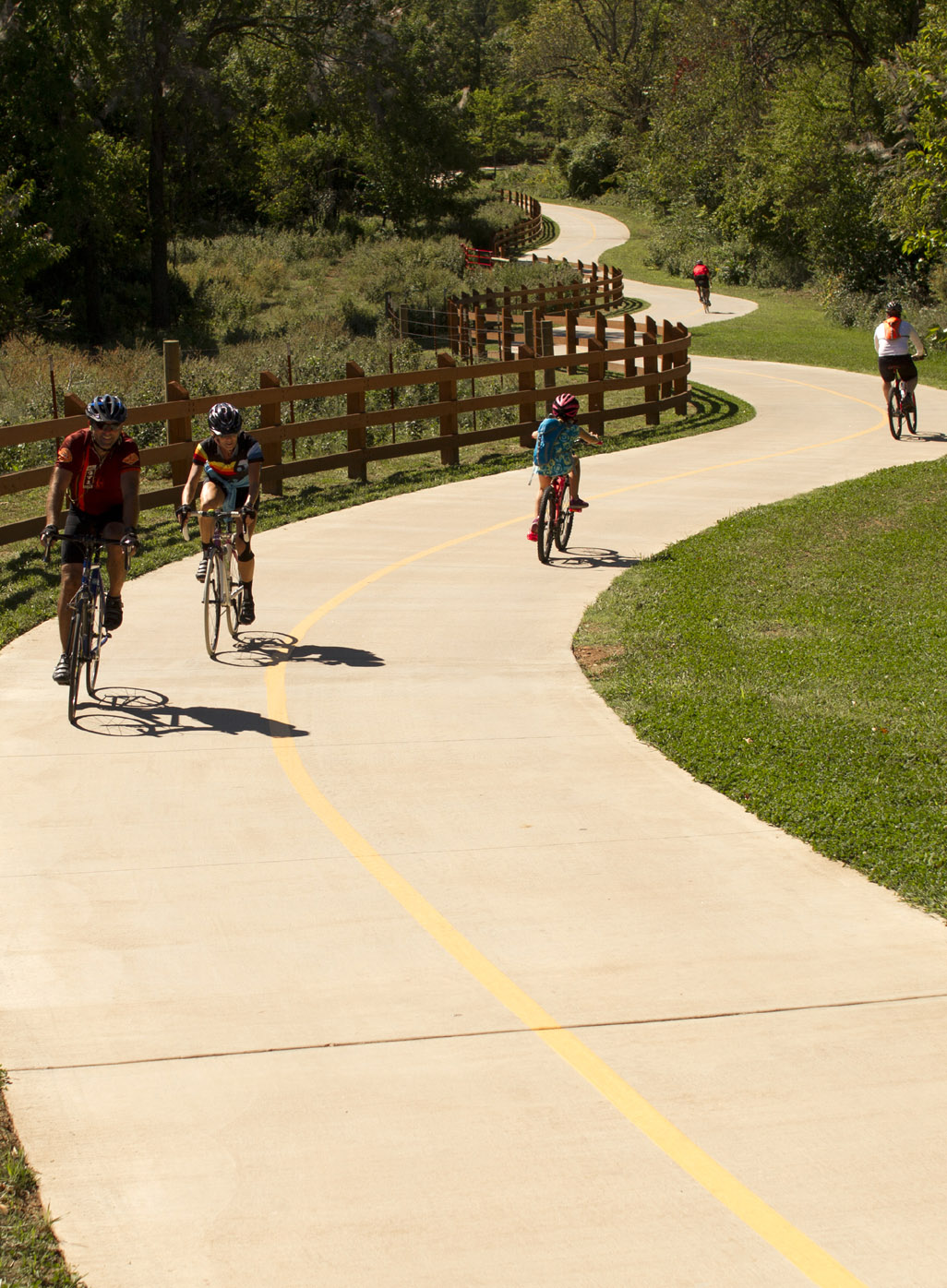 Razorback Regional Greenway Trail System
The popular 36-mile Razorback Regional Greenway Trail system stretches from Bella Vista south through Springdale to Fayetteville. The trail runs through the heart of Downtown Springdale with the section stretching from Shiloh Square north to Lake Springdale considered by most to be the most beautiful section of the entire trail system.
This paved, shared-use trail links six different downtown areas, three major hospitals, 23 schools, the University of Arkansas campus and the corporate headquarters of Walmart, Tyson Foods and J.B. Hunt Transport along a ribbon of pavement.
Springdale's downtown Shiloh Square Trailhead and adjacent Walter Turnbow Park are a central connection point for this remarkable regional amenity drawing walking and biking enthusiasts from across the Midwest. You'll also find trailheads on Sanders Avenue and at Lake Springdale, north of J.B. Hunt Park.
Springdale Mountain Bike Trail
Phase I of the Springdale Mountain Bike Trail opened in October of 2015 and was built at a cost of $1,050,000 with funds provided by the Walton Family Foundation on land provided by the Springdale Water and Sewer Commission.
Access to the trail is from the Lake Springdale Trailhead (Pump Station Road at Silent Grove Road)
Phase One of the Springdale Mountain Bike Trail includes the following features: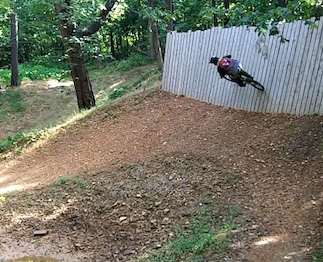 Contour Flow Trail
This 1.5 mile trail is a purpose-built single-track designed for mountain bikes. It is a rhythm-and-flow oriented trail with significant undulation made possible through terra forming. This creates a roller coaster-like experience, making it fun to go down and easy to climb up. contour of the land, has mellow grades, and is sustainable. (Watch a fast-action video of Thunder Chicken below)
Downhill Flow Trail
A smooth half-mile surface trail known as "Thunder Chicken" has rollers, berms, jumps, drops and some wood or stone features. The trail is typically 4-8' wide and ranges from beginner to experienced levels. These types of trails are one-way downhill and are accessed by shuttling or riding a return trail to the top. They are ideal for learning bike-handling skills and are extremely fun. (Watch a fast-action video of Thunder Chicken below)
Pumptrack
A closed-circuit track consisting of berms, rollers, and mounds that are spaced and shaped in such a way as to al­low the rider to generate speed without pedaling. It is designed to be ridden in any direction. These tracks teach the most basic bike handling skills.

Skills Course
An open, flat area with a variety of elevated features, such as ladder bridges or skinnys, designed to teach balance and technical bike handling skills. This course, along with the pumptrack, are the core amenities that teach the most basic bike handling skills necessary to the sport of mountain biking.
A major effort is underway to dramatically transform Downtown Springdale to take advantage of the Razorback Regional Greenway Trail that runs through the heart of the center city.
This video captures the essence of the community's support for the plan to re-invigorate Downtown Springdale.

A website - www.nwatrails.org - developed by the Northwest Arkansas Council provides a convenient portal for information, maps, and an interactive community for the Northwest Arkansas trail system.